Comic-Con International: San Diego 2015
Posted By Chris Crosby at 6/20/2015 04:46:00 PM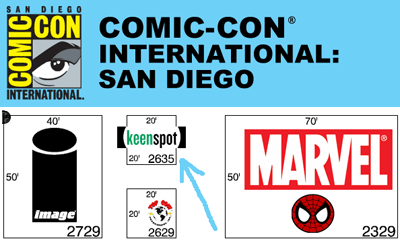 Keenspot w/ strategic partner Red Giant Entertainment @ Comic-Con International: San Diego 2015 Fast Facts!

Booth Number: #2635

At The Booth: Thomas Fischbach (Twokinds), Mark "Markiplier" Fischbach (star of Red Giant's Giant-Size #1 on sale now as a digital download!), Brion Foulke (Flipside), Benny Powell (Wayward Sons), David Campiti (Exposure, Pandora's Blogs), and Jinky Coronado (Banzai Girl).

Panel Discussion: Sunday, July 12th at 3pm in ROOM 4. Click here for more info!
---
New on Keenspot: WEIRDING WILLOWS!
Posted By Chris Crosby at 10/20/2014 12:40:00 PM

When she was nine, Alice wandered into the Wild Woods and discovered a portal to another world. A world called Wonderland! Now a young woman, she has spent her childhood discovering just some of the wonders the dimensional nexus of the Weir has to offer - a place where the worlds of Earth, Wonderland, OZ, Neverland, Mars, Pelucidar and Elysium collide, and where anything, and anyone, could turn up when least expected! From Frankenstein's Monster to a giant purple T-rex, from talking rabbits to winged monkeys, from a kidnapped Mowgli to a werewolf with a secret, there's never a quiet day in the Weir - and Alice and her friends are all that stand between these worlds, and those who would exploit them. The WEIRDING WILLOWS webcomic presented by ATOMEKA updates every Monday and Thursday exclusively on Keenspot.
---
New on Keenspot: THE GOD CHILD!
Posted By Chris Crosby at 4/06/2014 10:02:00 PM

THE GOD CHILD, a new collaboration between webcomics veteran D.J. Coffman (artist) and newcomer Ally Monroe (writer) debuts today on Keenspot and will update weekly for free. Here's what it's all about: A secret society known as THE CHURCH has been preventing the second coming of Christ for the past millennium. Looking for redemption and recruited by THE CHURCH a team of gunmen and assassins stop at nothing to track and kill the carrier. Convinced that they are exterminating the antichrist they use any means necessary to fight a secret battle to save the world and their souls. Nothing could have prepared Maggie Lee to carry the God Child, but her life has never been fair. Being thrown out of her home at the age of 16 for being gay has endowed her with the inner strength that will be needed to survive. With assassins on her trail and nowhere to hide, will she survive to give birth to the son of God, or the son of satan? THE GOD CHILD also features coloring by Adam Black and the first outing in comics for writer Ally Monroe. The project also marks the return of indy comics legend, D.J. Coffman to the drawing board. You can also find his past works HERO BY NIGHT (action adventure) and YIRMUMAH (dark humor) right here on Keenspot.
---
New on Keenspot: THE HUNTERS OF SALAMANSTRA!
Posted By Chris Crosby at 3/15/2014 09:02:00 AM

From THE LOUNGE creator John Joseco comes THE HUNTERS OF SALAMANSTRA, launching today on Keenspot! Plagued by strange monsters emerging from the mysterious Black Gates, the Kingdom of Salamanstra lies in constant conflict with beasts from the unknown. Follow one young girl and her companion's valiant stand against the darkness in search of profit, fame, and most all adventure as a Hunter of Salamanstra! START FROM THE FIRST PAGE!
---
New on Keenspot: HOAX HUNTERS!
Posted By Chris Crosby at 6/14/2013 12:00:00 AM

Michael Moreci & Steve Seeley's hit Image Comics series HOAX HUNTERS joins the Keenspot network as a free webcomic! Cryptids. Aliens. Monsters. All the world's bizarre secrets--what if they were real? Their existence would be debunked by a reality TV show! HOAX HUNTERS is that show, publicly disproving all variety of lore. But their real goal is the opposite: as the world's dark corners surface, the Hoax Hunters cover them up. Updates every Monday and Thursday. START FROM THE FIRST PAGE!
---
New on Keenspot: PORCELAIN!
Posted By Chris Crosby at 6/10/2013 01:16:00 AM

Red Giant Entertainment brings us an exciting new sci-fi action series today, PORCELAIN! Created by actress Ana Alexander (Cinemax's Femme Fatales), the series follows a futuristic female protagonist who works for a shadowy organization and executes her duties in a cold and clinical manner. Things quickly change, as she begins to unravel the secrets that surround her own existence. START FROM THE FIRST PAGE!
---
New on Keenspot: KATRINA!
Posted By Chris Crosby at 5/01/2013 06:51:00 AM

Today, Red Giant Entertainment brings us an exciting new horror series, Benny R. Powell's KATRINA! Jacqueline and Henry stumble upon the truth behind the legend of Katrina, Queen of the Vampires, who has been locked inside a convent for nearly two centuries. Now she has been unleashed by the storm that bears her name. START FROM THE FIRST PAGE!
---
SHERLOCK HOLMES producer signs on to co-produce WAYWARD SONS movie (and develop a TV series)!
Posted By Chris Crosby at 4/10/2013 04:00:00 PM

The producers of the SHERLOCK HOLMES movie franchise starring Robert Downey Jr and the upcoming big-budget animated feature THE LEGO MOVIE, Dan Lin's Lin Pictures, have signed on to co-produce WAYWARD SONS: LEGENDS, a live-action feature film adaptation of the Red Giant Entertainment property that all started right here as a webcomic on Keenspot! Click here for the full scoop from THE HOLLYWOOD REPORTER.
---
New on Keenspot: MEDUSA'S DAUGHTER!
Posted By Chris Crosby at 3/25/2013 12:02:00 AM

Red Giant Entertainment brings us MEDUSA'S DAUGHTER by Jonathon Scott Fuqua and Steven Parke! MEDUSA tells the tells the tale of fifteen-year-old sideshow freak Maia Volokos. Born with writhing ringlets and viperous locks, Maia seeks the dangerous truth about herself and the parents she never knew. "This new retelling of the myth of 'Medusa' is destined to become a post-modern classic," raves Allan Arkush, Director and Executive Producer of NBC's HEROES. "[It is] a creepy cinematic graphic novel about life inside the circus sideshow of your dreams, if your dreams resemble Nightmare Alley." Check into the mystery of MEDUSA'S DAUGHTER every week. START FROM PAGE ONE!
---
REAL STEEL producer co-financing LAST BLOOD movie adaptation
Posted By Chris Crosby at 7/15/2012 10:04:00 PM

REAL STEEL producer Rick Benattar has signed on to co-finance LAST BLOOD, the live-action feature film adaptation of the Keenspot webcomic to be directed by Simon Hunter from a screenplay by Bobby Crosby and Nick V. Sterling. Casting is now underway for planned filming this spring. Click here for the full scoop from DEADLINE.COM.
---
New on Keenspot: JADE WARRIORS!
Posted By Chris Crosby at 6/24/2012 11:53:00 PM

JADE WARRIORS tells the tale of Angel Sorayama, imbued with the power of a "Deathkiss" as part of a cult of female assassins fostered by the Yakuza for its own ends. When she dared to escape this life, the hunter became the hunted. One hell of an incentive package. But that's not all: The Jade Warriors were originally a proud calling, one steeped in myth and tradition, preparing for the return of ancient Dragons imprisoned deep within the mountains of Japan. And many myths are based in truth...as they discover when the Dragons return. MIKE DEODATO'S JADE WARRIORS returns to comics as a twice-weekly serialized adventure exclusively on Keenspot, courtesy of Glass House Graphics and Red Giant Entertainment. It is co-written by Michael Buckley and David Campiti, and illustrated by Mike Deodato, with some inks by Emir Ribeiro. START FROM PAGE ONE!
---
New on Keenspot: BANZAI GIRL!
Posted By Chris Crosby at 6/18/2012 08:54:00 PM

BANZAI GIRL Jinky Coronado is a girl of three worlds; she just doesn't know it yet. She's a fun, pretty, popular schoolgirl about to have her big 18th birthday debut party, when her life gets turned upside-down. She begins having dreams that she's a Princess on a far-off world, only to see those dreams turn nightmare as her King father is murdered in her arms. Her nightmares veer further into weird as she also dreams of being a futuristic freedom fighter battling hideous tentacled things buried beneath robotic exteriors. And her life goes over the edge when the weirdness comes home, as she fights a very real invasion menace that takes control of the city's adults -- and her compelling nightmares seems to hold the key to stopping it all! Read BANZAI GIRL online every Mon-Wed-Fri exclusively on Keenspot. START FROM PAGE ONE!
---
News archives | 01/2004 | 03/2004 | 04/2004 | 06/2004 | 07/2004 | 10/2004 | 02/2005 | 03/2005 | 05/2005 | 07/2005 | 08/2005 | 09/2005 | 12/2005 | 01/2006 | 06/2006 | 07/2006 | 11/2006 | 05/2007 | 07/2007 | 02/2008 | 03/2008 | 04/2008 | 05/2008 | 07/2008 | 01/2009 | 02/2009 | 03/2009 | 05/2009 | 06/2009 | 07/2009 | 08/2009 | 12/2009 | 01/2010 | 02/2010 | 03/2010 | 05/2010 | 06/2010 | 08/2010 | 10/2010 | 11/2010 | 01/2011 | 02/2011 | 03/2011 | 05/2011 | 07/2011 | 11/2011 | 12/2011 | 01/2012 | 02/2012 | 03/2012 | 04/2012 | 06/2012 | 07/2012 | 03/2013 | 04/2013 | 05/2013 | 06/2013 | 03/2014 | 04/2014 | 10/2014 | 06/2015